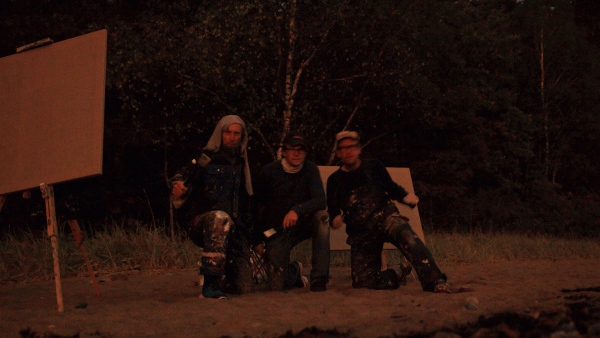 With the exhibition Munch, Wirkola -& Co. at Haugar Vestfold Kunstmuseum in Tønsberg, the -& Co. artists place themselves into the inheritance order after Munch, but from now on together with the new member of the group, artist Jens Hamran (b. 1963). The title of their show also refers to the norwegian ski jumper Bjørn Wirkola signifying the prospect of and the difficulties associated with embarking on a task where one's immediate predecessor has accomplished an unusually good job, the norwegians saying to jump after Wirkola. With this in mind they have been painting on the same spots wich were Munch´s iconic motifs from Åsgårdstrand are based and then kept them for drying under Munch´s studio.
During the field work they have used the same formats and colours as Munch did, but also written themselves in to the motifs, like in work Melancholy Beach a series of paintings, made rolled out on the same stone beach where Munch painted his Melancholy, then sewed together in a big scale consisting of 24 paintings. Other works in the show are House with Red Virginia Creeper and Moonlight, made in November and December 2017 and then in August and September 2018.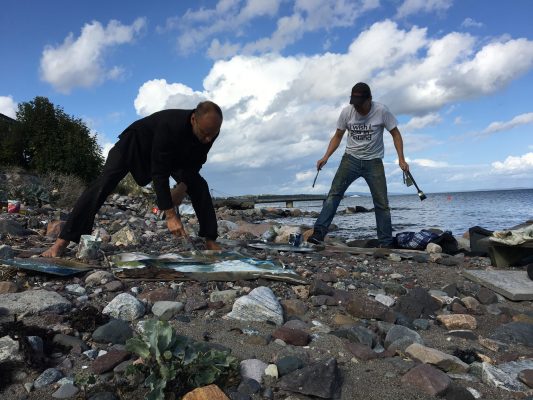 The group show Munch´s House was initiated by Haugar after they overtook the operation of Edvard Munch´s former summer house and studio in Åsgårdstrand.  The show opened the 6th October and will run until 31st December 2018. Invited artists are Mai Bente Bonnevie, Tracey Emin, Behzad Farazollahi, Marit Følstad, Espen Gleditsch, Crispin Gurholt, Bjørn Erik Haugen, Olav Christopher Jenssen, Lars Lerin, Kristian Skylstad, Kari Steihaug, Anne Lise Stenseth, Anne Trædge, Marte Aas and -& Co.
-& Co. is a collaboration between Aleksi Wildhagen, Jens Hamran and Patrik Entian. See more projects here: http://ogco.no/