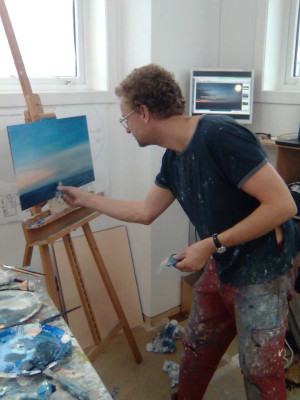 A selection of small-sized paintings done 2007-2011 during my research project Looking for Painting in the Norwegian Artistic Research Programme. http://artistic-research.no/?lang=en
The paintings are based on webcam images from Atka Bay (now taken down) run by researchers at the Neumayer Station in Antarctica http://www.awi.de/en/expedition/stations/neumayer-station-iii.html and are done almost every day in one act as a kind of indoor plen-air painting that gathered appears as a form of painting diary.
The motives circle around clear sunrises-sunsets, night-day, horizons, fog, white-out snowstorms and distorted webcam images. The project deals with problems as distance, precense, time, velocity and how to materialize this in painting.
The paintings varies in material such as oil, beeswax, graphite, pigments, chalk, dry and oilpastels on wooden boards, metal plates and paper. Most comon size is 50 x 70 cm, 34 x 56 cm or smaller.
See also the critical reflection text Looking for Painting by Patrik Entian here (only avaible in swedish): http://halvekongeriket.org/wp/wp-content/uploads/2011/09/Entian-Kritisk-refleksjon.